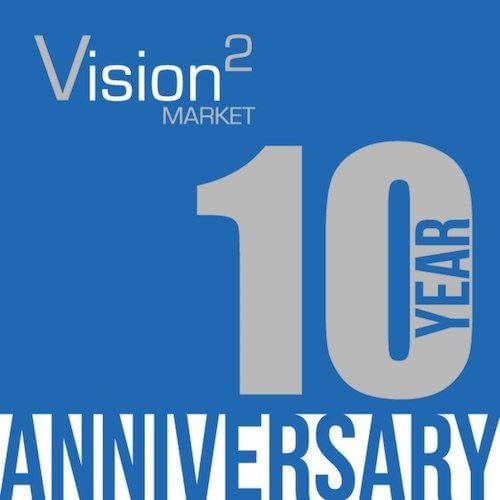 20 Nov

Marketing Company Vision 2 Market Celebrates 10 Years In Business

Marketing Company Vision 2 Market celebrates 10 years in business this week. Owner of Vision 2 Market, Catherine Flores, was exposed to business at a very early age. She remembers going to work with her father in New York City starting at the age of nine. Her father owned an air conditioning and refrigeration business. Catherine enjoyed going to work with her Dad and she has fond memories of that time in her life. She believes her love of business started at that time, not realizing years later she would become an entrepreneur herself.
Marketing Company Reflects Back On Events Leading To 10 Years In Business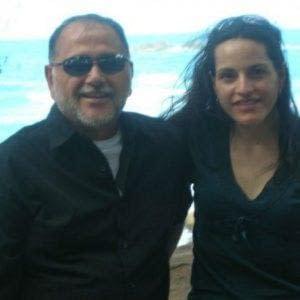 Catherine remembers her fathers' customers would give her the royal treatment. Dads' clients had restaurants and they were trying to keep their produce at the right temperature, Catherine recalls. "My Dad would service their dairy cases and adjust thermostats to preserve the food and beverages. The customers would sit me at their counters, talk to me and serve me delicious food and desserts. At first, I honestly thought it was a main reason why I wanted to go to work with Dad. As I got older, I used to bring in tools and relay information to clients as my father worked in cellars to make equipment repairs. I enjoyed being a helper just as much as getting goodies."
Dad is a very charismatic guy and he was very good at what he did, Catherine said. "His customers were happy to see him and the greetings were very warm and full of laughter even though it was business. That really made an impression on me."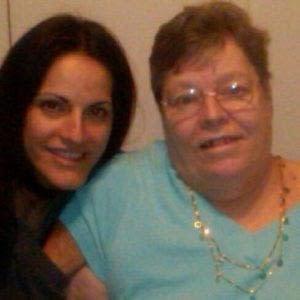 "Mom is an incredibly hard worker and she never cut corners whenever she did anything," says Catherine. "I learned so much from watching her. She taught me to be responsible, kind, and giving. I am so proud to have carried these characteristics into my work."
Catherine began work at the age of fifteen at a gas station with a convenience store. She held assistant and management positions after that job most of her career. Catherine developed more of a passion for business, marketing and advertising while taking classes in college. She later graduated with a business degree and specialization in marketing. Catherine told coworkers at her first Marketing Assistant job back in 2003 that she wanted to start a marketing company. She opened Vision 2 Market just a few years later on November 23, 2006.
Vision 2 Market Started With Amazing Support From Family & Friends
Vision 2 Market started with amazing support from family and friends and just two clients. Family and friends referred Vision 2 Market for w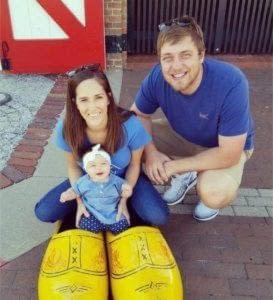 ebsite design services and logo design in Long Island, New York. Catherine's sisters, cousins, and friends referred many clients to get the business off the ground.  These same family members and friends have continued to be a huge support. Catherine attributes her success in business to family, friends and employees who did clerical work, design work and gave feedback on projects. Many friends do business with Catherine and some have accompanied her at marketing seminars traveling throughout Massachusetts since 2010.
Vision 2 Market has a significant client base now and although they have grown, their business philosophy has remained the same. Catherine Flores feels it's important to over deliver and put customers first. The professional relationships Catherine has developed over the years have grown into friendships. "Learning about a client's business is a true privilege and being an entrepreneur myself, I have empathy for business owners. It's a challenge to work so many hours. It can be hard to find someone that will treat your business as serious as you do. I want to be that right-hand person for my clients."
Marketing Company Hours & Customer Service Stay Consistent To Achieve 10 Year Milestone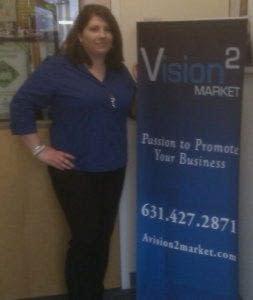 Business hours were originally seven days a week and there was no such thing as 9am-5pm hours. The work week hasn't changed much. It's six days a week now. Catherine continues to respond to clients after hours. Vision 2 Market strives to answer client emails and inquires promptly. Catherine prides herself on doing what she says. No business can succeed without clients. "The clients I work with happen to be amazing entrepreneurs and incredible people with 30-40 years in business. I am grateful for their trust in me. They inspire me everyday to do better." Vision 2 Market has been inspired to offer search engine optimization, email marketing, mobile marketing and social media management since 2010. The service offerings have broadened to help business owners stay current with digital marketing.
Vision 2 Market is grateful to family, friends, employees past and present, business associates and loyal clients who have made it possible to achieve a 10 year milestone. Catherine appreciates your support and referrals have meant so much. There's no better time to say thank you to all and wish everyone a Happy Thanksgiving! Vision 2 Market would not be achieving a 10 year anniversary without you!