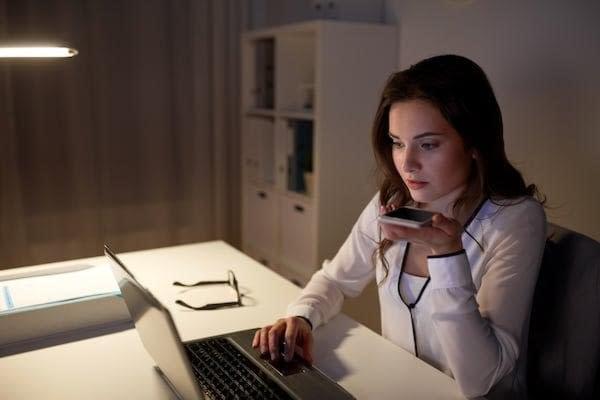 26 Sep

4 Ways Online Marketing Searches Impact Sales

It's important to know how different online marketing searches can affect your business position online. Take new technology into consideration and how people are starting to search when putting together your online marketing strategy. It just might be the key to more sales and leads.

Here are 4 different types of online marketing searches that should be a part of your digital marketing strategy.
Voice searches are becoming a part of everyday life
Voice searches are becoming more mobile and locally focused than ever before. Voice command technology is used on many devices, such as Apple's Siri, Amazon's Alexa/Echo, Google Home, Xbox, and even some cars. Using voice search is becoming second nature as the technology becomes more integrated into everyday products. From setting a cooking timer on your phone, adding items to your shopping list, operating the lights in your home, to sending a text while driving, voice search and voice commands are becoming more and more popular. This month WordStream published '33 voice search statistics to prepare you for voice search revolution', which clearly shows why all digital marketing strategies should take advantage of this ubiquitous trend.
Voice search queries typically use more words than text searches. Text queries are usually 1-3 words in length, while voice searches are 3-7 words long. Voice searches also tend to ask a question explicitly. Most searches include who, how, why, where, what and when. The words 'what' and 'who' are more research based while the word 'where' is more action based. Someone saying 'What is the difference between organic and pasteurized eggs' is investigating and gathering information, while searching 'where can I buy organic eggs' is further down the purchasing path. Understanding the nuances between conversational search queries can help you figure out consumer intent. To fully optimize your online marketing searches make sure that your website contains the right content for voice searches.
It is necessary to create content that answers questions potential customers may ask while using home speaker devices or mobile phones. Most people can talk faster than they can type, so there is no wonder why there will be over 1 billion voice assistant enabled devices in circulations by the end of 2018. According to Google, 72% of people who own voice-activated speakers say their devices are part of their daily routines.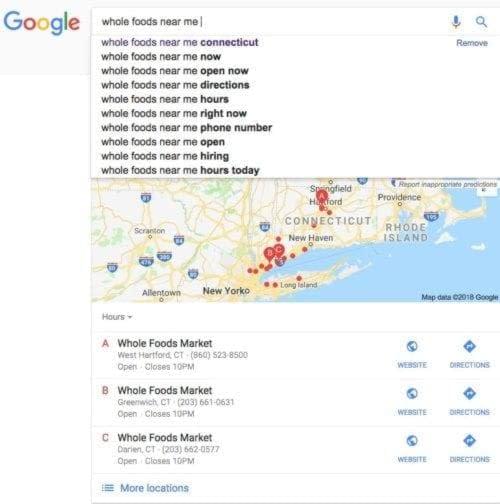 Online searches like 'Near me' are being used more and more
People want to satisfy their immediate needs more now than ever before. According to Think with Google, there has been a 150% increase in mobile searches for '… near me now' (e.g., 'Whole Foods near me now'), and a 900% growth in mobile searches for '..near me today' (e.g., 'farmers market near me today'). The search term 'near me' is a strong signal of intent from a potential customer. People are using location qualifiers less, such as zip codes because they expect their devices will automatically filter the relevant information closest to them.
Businesses need to make sure they are giving people the right data and answers to relevant questions as quickly as possible. Keeping your 'Google My Business' dashboard up-to-date with information such as your opening hours, address and phone number and the latest photos is critical. It can be disappointing for a customer to drive to your location only to find out it's closed. Not updating your online information can cost you, customers, especially, when they may not return to your establishment a second time. The Google dashboard is a window into your company without the need for a customer to go onto your website and look for contact information. While out and about many people will use the 'get directions' or 'call now' tool to contact you.
Why utilizing Google Maps should be a part of your digital marketing strategy
Google maps allow customers to locate you and easily navigate to your place of business. Location errors can occur on Google Maps now and then, so it's essential that you get the issues resolved as soon as possible. People use Google Maps for checking wait times at a restaurant, measuring distance, remembering your parking spot, and getting directions (via different modes of transport). With all these uses it is imperative that you make sure your business is listed on Google Maps correctly. Report any images that do not accurately reflect your business. Make sure to pinpoint your location on Google Maps.
Online marketing searches use an API (Application Programming Interface) code on the background of your website to link your site location to Google Maps. API code is a set of clearly defined methods of communication between various platforms. When out and about in a new town, people open Google Maps to see the businesses in the immediate vicinity, without them having to type anything. Having your business show up to anyone in the area will get your business name noticed by people who may not have known it existed.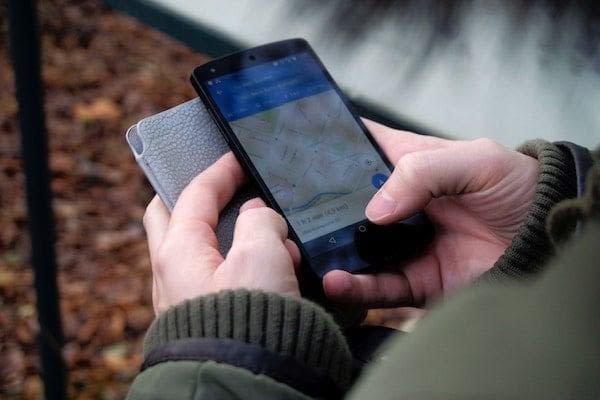 Targeted online marketing searches used in advertisements
Have you noticed that when you search for something online, it then appears in your newsfeed as an advertisement? As an example, if you searched for vacation packages to Hawaii online, you may find your Facebook is showing you swimsuit advertisements and airline deals. Online targeted advertisements use your search data to personalize the companies, products, and services you may want to see.
Targeted advertising works using a combination or your IP address and cookies. Your IP address is your digital address and cookies are files in your browser that track information. When users visit your website, they are 'cookied.' You can remarket your products or services to these visitors using a code that is on the page they visit. Ads are then triggered to follow that 'cookied' user around the internet, whether they are using a social media site or other websites. Similar to targeted advertising, remarketing enables you to show your ads to people who have already shown interest in your business products or services previously. When someone has already shown interest in your product or services, he or she will already be familiar with your brand and remember what you are selling. Remarketing campaigns can remind customers about what they were searching for and bring your company to the forefront of their minds. Google Ads display brief advertisements, services, products, and video content to web users. Google Ads and Facebook ads work on a similar system based on keywords, phrases, and cookies.
Remarketing can be costly if you don't have expertise in this area. That is why working with a professional digital marketing company is so beneficial. It will eliminate your worries about not targeting the correct audience or if it's a reasonable price. The cost of remarketing fluctuates. A digital marketing specialist will be able to advise you based on many factors including your target audience, geographic location, budget, and competition.
For more information about online marketing searches or digital marketing contact Vision 2 Market.