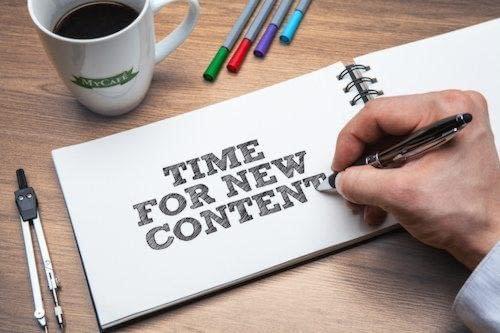 19 Aug

Mobile Responsive Design Is Just One Aspect Of The Big Picture

Mobile responsive design is only one aspect of the big marketing and advertising picture. Yes, mobile responsive design is important for any company today. We simply can't ignore the amount of people walking around with mobile phones and tablets. I recently watched an elderly woman take out her iPad mini to pay for a beverage at Whole Foods. Apple Pay is more common than not. Although my recent personal Facebook poll seems to suggest, there is room for a lot more people to use this technology.

I think we can all agree, a mobile responsive design on your website is necessary at this point. More importantly, I highly recommend having a plan in place that will help keep your business content up-to-date online. It's absolutely key even if you can't afford to invest in a mobile responsive design yet.

It's a great idea to develop an internal business plan that includes obtaining fresh content in the form of new pictures weekly. Good photos and storytelling are essentials for posting new content on your website and social media. You can also create seasonal sales and post events online. Engage new prospects online daily and create conversation on relevant forums where your target audience may spend time.

Even if you are not a professional videographer, shoot videos with your phone. There is a huge opportunity to edit videos easily today. You can turn an amateur video into something that goes viral using platforms like Facebook, Vine or Instagram. We've all seen videos go viral on social media. From animals interacting to ice bucket videos, there has never been a more exciting time to share your message online and have millions of people see it instantly. Share different social media posts across multiple online channels. The exposure you can get from Facebook, Instagram, Linkedin, Google +, Twitter, Pinterest and more can be phenomenal if done correctly.

Each Social Media platform attracts a different type of user. Familiarize yourself with the demographics of each platform. Know your target audience and be strategic about posting and engaging on social media channels and online forums. Know which social media platforms reach your target customers and when users are active most on each platform. Most all platforms have analytics you can access for a better understanding of how people are engaging with your social media, website or landing pages. Get to know which social media platforms attract women or men and what age group they target . Pew Internet provides a free data analysis of social and internet use that can be very helpful for your business.

Just having a mobile responsive design on your website will not be enough to get you good search engine results. It takes a combination of hard work, consistency and a little strategy to achieve good organic search results. Keep your online presence up-to-date and put a strategy in place to post new content online regularly. Oh, and writing a blog might help too! Big smile! Best of luck and remember to surround yourself with positive, can do people that can help keep your content fresh!