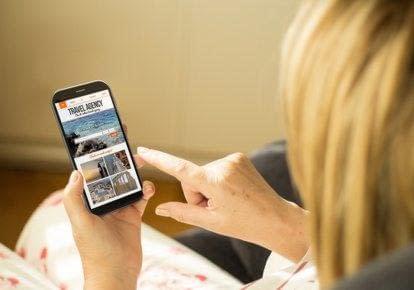 25 Mar

A Mobile Website Is Essential For Any Size Business Today

Since mobile users have surpassed desktop users for the first time since 2015, a mobile website has never become more important for your business. All of the mobile websites that Vision 2 Market designs and builds have a major emphasis on look and functionality. A desktop design is secondary. Especially, since the trend of mobile users is expected to continue.

It's critical that your website functions well on desktop too. However, the search engines have been providing better online results to businesses with a mobile website. Google has been favoring mobile sites for a year now. Since Google gets roughly thirty percent more traffic than other search engines, it's usually a good idea to follow their lead.
FOCUS ON MOBILE WEBSITES WITH DESIGN & FUNCTIONALITY
The design and functionality of your mobile site must provide the end user with a good experience. Many mobile websites just show words or simple navigation. Vision 2 Market designs and builds mobile responsive websites using eye-catching photos and content. It's best to feature a combination of words and photography to capture your audiences attention. Some website developers or marketing professionals may disagree. Many companies try to sell business owners a one page mobile responsive design such as a landing page. While other companies promote just a few mobile responsive web pages such as microsites.
A landing page is a single web page with the intention of capturing a lead or providing more information about a product or service. When the user clicks on a landing page before entering an entire website, they are usually prompted to sign up for a sale or leave their information. A microsite is a single web page or small cluster of pages designed to stand alone or complement an existing website. Here are a number of concerns with just having a mobile responsive landing page or microsite:
• Once the client gets beyond the landing page, the rest of your website is hard to read or navigate on a mobile device
• The landing page may not interest the user and they click off your website entirely (Testing different landing pages is recommended)
• Your microsite might not have enough content in terms of copywriting or pictures to come up in search engine results
Landing pages and microsites can be very important strategies to use when executed correctly. They can be used independently of your website or in conjunction with your website. Often landing pages are used for a specific promotion. Landing pages and microsites can be very effective but they should not be used as a replacement for building a mobile site.
 
BENEFITS TO BUILDING MOBILE WEBSITES
Over 60% of small businesses still have not converted to a mobile responsive website. It can be daunting to think about doing your website over again but there are a lot of benefits to do so.  Maybe think of it this way:
• It's an opportunity to upgrade your products and services online so your company remains relevant
• You may not have to do another substantial upgrade on your website for many years
• Your mobile site may give you a competitive edge
• You'll be able to participate in other forms of mobile marketing
• It may be easier to update your site using the latest technology
If you already have a mobile website here are a few questions to ask yourself. Is your mobile site optimized on a monthly basis? Are your featuring current sales or promotions? Do you have a blog to share your expertise with prospective buyers? Does your website include individual pages for each product or service you sell? A general rule of thumb is that if you don't show it online, you won't be able to sell it successfully!
Try to find a company that wants to learn about your business. It's very different from hiring a website developer just to build your mobile website. It's important to work with an advertising agency that will take the time to learn your industry and research your competition. It's becoming harder and harder for business owners to navigate in the digital era alone. Consider hiring a marketing professional familiar with branding, advertising, search engine optimization, social media, blogging, mobile marketing and paid search engine marketing to make your business flourish.
Read more articles about responsive website design at The Huffington Post!